eHealthcare Solutions Welcomes Peter Wetzel, Client Solutions Specialist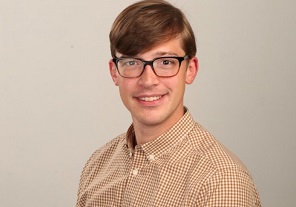 We are thrilled to welcome Peter Wetzel, Client Solutions Specialist, to our eHealthcare Solutions (EHS) team! Peter will be working on nurturing new business along with his own focus in the nephrology field. We couldn't be more excited to have him with us!
Here is a bit more to know about Peter.
Education: Peter attended Berklee College of Music in Boston, Massachusetts and graduated with a bachelor's degree in professional music.
When asked what led him to a music degree, Peter tells us that his parents are great appreciators of music. From the time he was an infant, his parents would put music on after dinner. At the age of six, curiosity led him to discover the guitar after asking what was making the music he was listening to. During these years, Peter became especially interested in the music of American musician, Stevie Ray Vaughn. Now, in his spare time, Peter is guitarist/bassist and performs in live gigs all over the tristate area.
Previous jobs before EHS: Before coming to EHS, Peter worked in sales at Reminder Media and just recently, took his first steps in healthcare marketing at CMI Media. Through these experiences, Peter realized he "loves the rush of sales" and is eager to continue to build up his career at EHS.
Favorite part about working at EHS: Peter loves that this is a creative, 4-dimensional job serving a wide spread of clients. He is excited (and so are we!) to continue to help our clients obtain the right solutions to their marketing needs.
Most interesting or unique job you've ever had: Peter once worked at an Army Navy surplus store. It was unique in that he witnessed all different walks of life come into the store, from tourists to veterans, to celebrities like John Stamos and Shaquille O'Neal, it certainly was an interesting range of clientele.
Biggest role model: Peter admires Justin Timberlake for the way he has consistently reinvented and refined himself to stay relevant. Between his music, his acting career, and his brands, "he is quite the entrepreneur."
Greatest accomplishment: When he was 13-years-old, Peter had the incredible opportunity to represent other 13-year-old boys in the Kanga Cup, the largest international youth football tournament in the Southern Hemisphere, held annually in Canberra, Australia. Peter was beyond honored to hold the American Flag during the opening ceremony.
Hobbies: If it wasn't apparent by his degree from Berklee, Peter loves music on every level, whether its in the form of listening, performing, or engaging in a casual improv with colleagues, music is his greatest passion.
Peter also enjoys biking, an activity he engaged a lot in when he lived in Boston during his college years. Now, Peter enjoys riding on the weekends through Valley Forge and Jim Thorpe.
Favorite food: Sushi.
Future aspiration: Peter would love to one day travel to Spain and experience the rich culture, music, and architecture. He has always enjoyed the ability to speak Spanish and strengthen his vocabulary through dialogue.