Top Ten Best Practices for Enewsletters or Custom Emails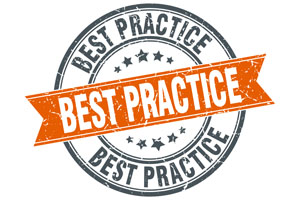 Custom emails or email newsletter sponsorships can be a cost efficient marketing tool that separate you from your competition. Email can be utilized to disseminate valuable content to your niche market or to drive traffic to educational content already on your site. In other words, it can be used to generate perceived value of your brand in your market segment and position your company as a thought leader in your industry.
Email is also a powerful tool for generating engagement with content or creating awareness around a specific topic. Email can be shared, and a shared piece of content or word of mouth is one of the most basic and traditional ways to get people interested in your message.
It can also move the needle on your marketing efforts during specific time periods. For instance, emails surrounding an event or a conference will lead to more engagement. In 2016 alone, EHS has delivered hundreds of emails and compiled significant amounts of data on many variables surrounding email engagement. Sending an email during a conference or other event can increase open and click-through rates by over 10%.
Top 10 Best Practices and Suggestions for Email Creation
There are certain considerations you want to keep in mind to ensure your email's success. First and a given, work with only trusted publishers and e-newsletter vendors. Here is a list of important factors that can predict the success of your message:
Design for simplicity:
Design as if you were designing a site for an old browser.
Avoid using WYSIWIG programs. Code from scratch using the most simplistic elements of HTML.
Avoid floats or positioning.
Avoid Flash or JavaScript. If your message absolutely needs motion, use .gifs.
Use tables, not div tags.
Go light on images:
Do not use background images, they will not load.
Assume images will be blocked by email clients, so make sure you are explaining everything in text.
Therefore, don't design an email that's just one large, sliced-up image.
Use responsive design, the widths should flow with the size of the browser.
Consider that most people will be opening your email on their mobile device.
Be sure the email is readable at arms length on a small screen.
Consider some people will be viewing emails in a preview pane.
If you have to limit with a width, keep it within 500-750 pixels
Test the look and feel on several devices (desktop, tablet, & mobile) and email clients (Outlook, Gmail, Yahoo) or use a program that does this.
Use basic, cross-platform fonts such as Arial, Verdana, Georgia, and Times New Roman.
Subject lines work best when they speak to a relevant, current topic:
Personalization increases open rates. "Dr. Cooper – New study Indicates longer survival with combo therapy in relapsed MM"
Try for 50 characters or less, but don't be limited by it, use the most important words first if you go longer than 50 characters.
Capital letters increase open, for example: "Top 10 Best Practices for Email"
The message inside the email should fulfill the promises made in the subject line and avoid salesy phrasing, tactics, and words.
Always include a Call to Action (CTA):
You need to tell your readers what you expect them to do next.
Use a question that they need to click to get the answer.
Provide next steps to get a solution to their problem.
Provide a link and tell them to "Click here to read this new information on targeted immunotherapy," or "Read more about Google's new rule on blocking interstitials."
If you provide a standard format in an enewsletter, the rules can change a bit on the CTA. For instance, if you regularly send out an email newsletter with links to articles, people will already be in the habit of clicking on the titles of the articles, if you want to use those as links.
Choose your lists carefully:
Target your audience.
Consider the life cycle of the list & split it for different messages: brand loyal, active, inactive, new to the brand
Or another way to look at lists – previous customers, current customers, or potential customers
Continually test your emails for different variables within the email. Some things to consider testing:
Subject lines.
Call to action (CTA) message, CTA buttons & colors of buttons.
Focus of message.
Time of day and day of week.
When sending out an enewsletter, consistency goes a long way, so at some point, you want to limit your testing – for instance, a newsletter should go out at the same day and time every time to get your readers into the habit of opening your email and knowing what to expect when they get it.
More Resources
40 Tips for Dramatically Better Emails
Email Marketing Field Guide
The Ultimate Guide to Email Design Best Practices for Marketers