Tap Native Selects eHealthcare Solutions to Deliver Its Unique In-Content Native Advertising Opportunities to Pharmaceutical Brands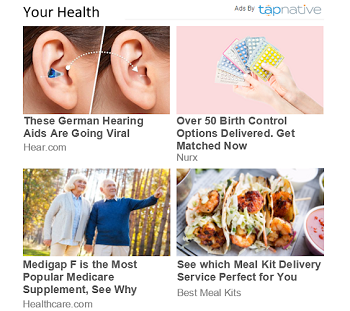 Ewing, NJ – April 29, 2019 – eHealthcare Solutions (EHS) is pleased to announce an exclusive partnership with Tap Native, the leading native ad platform focused exclusively around health, medicine and wellness. EHS will be the sole pharmaceutical representation for sponsored pharmaceutical advertising across hundreds of top tier health and wellness sites including general health sites, drug reference sites, condition specific sites, and patient portals.
Tap Native enables health-related marketers to reach an audience of patients, caregivers, or healthcare professionals while they're consuming content online. Advertisements are delivered contextually, at scale, and across a network of hundreds of premium health sites. Algorithmic optimization tools allow the marketer to optimize to specific web actions and reduce cost per conversion through automated and manual audience matching using a taxonomy of therapeutic categories.
"eHealthcare Solutions has an excellent 20-year reputation in the digital health marketing space having built many win-win relationships", said Rafael Cosentino, VP Business Development of Tap Native. "When we evaluated potential partners to bring our offering to pharmaceutical and healthcare brands, they were an easy choice."
R.J. Lewis, President and CEO of eHealthcare Solutions says, "We are thrilled to be able to offer this ROI-focused, performance-based image plus text service to our brand clients. Tap Native is a clean, brand-safe environment that complements our other native and display advertising offerings. Tap Native's in-content placements allow marketers to engage with ideal audiences at the moment they're seeking specific health information."
Tap Native advertisers can prioritize targeting of their content style ads by selecting therapeutic categories such as diabetes, pregnancy and childbirth, digestive health, mental health, weight loss, cardiology, and dozens more. Tap Native will maintain direct advertiser relationships with all non-pharmaceutical brands. Tap Native is committed to their guarantee that brands appear in safe, viewable environments. They have partnered with industry leaders in viewability, verification, and fraud detection to maintain their platform integrity.
About Tap Native
Tap Native is the leading native advertising platform focused around health and wellness topics. Through natively integrated ad units, healthcare marketers can promote their content to millions of health-conscious consumers and healthcare professionals across the Tap Native global network of top tier health publishers. Healthcare publishers have a unique opportunity to integrate a native ad serving platform into their site for health content monetization. For more visit www.TapNative.com.
About eHealthcare Solutions
eHealthcare Solutions (EHS) is a unique marketing platform that specializes in connecting niche audiences with pharmaceutical and healthcare brands. By partnering with trusted medical publishers and employing sophisticated data-driven targeting techniques, we change behaviors and improve health outcomes by educating and informing healthcare professionals and consumers. For more visit www.eHealthcareSolutions.com.

Contact:
Michele Jonsson
PR@tapnative.com