Google's New Policy Penalizing "intrusive interstitials" on Mobile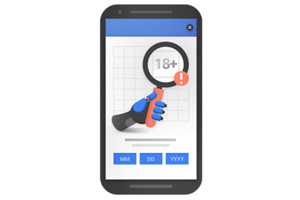 Starting on January 10, 2017, Google is employing a new policy in effort to help users more easily access content on their mobile devices. The policy will crack down on sites that show "intrusive interstitials" where content is not easily accessible to the user on the transition from the mobile results, therefore leading to a poor user experience. Publishers using these techniques will be in danger of being lowered in ranking on Google search result pages.
In a post from Google's official Webmaster Central blog by Product Manager Donatam Phan, he outlines the below examples as techniques that make content less accessible to a user, and therefore will be frowned upon under the new policy.
Showing a popup that covers the main content, either immediately after the user navigates to a page from the search results, or while they are looking through the page.
Displaying a standalone interstitial that the user has to dismiss before accessing the main content.
Using a layout where the above-the-fold portion of the page appears similar to a standalone interstitial, but the original content has been inlined underneath the fold.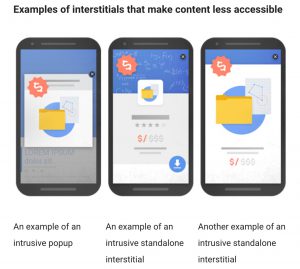 However, Phan has listed some similar techniques that if "used responsibly", Google will not be penalizing publishers for. This includes:
Interstitials that appear to be in response to a legal obligation, such as for cookie usage or for age verification.
Login dialogs on sites where content is not publicly indexable. For example, this would include private content such as email or unindexable content that is behind a paywall.
Banners that use a reasonable amount of screen space and are easily dismissible. For example, the app install banners provided by Safari and Chrome are examples of banners that use a reasonable amount of screen space.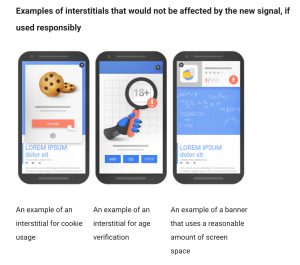 With this new algorithm in place come 2017, publishers must be sure to monitor their advertising practices, in effort to create a better mobile user experience for their audience and effectively deliver relevant content.