Effective Pharmaceutical Advertising: Customization is Key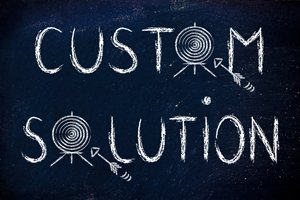 Pharmaceutical advertising can be challenging, and poses unique problems to modern marketers. A good product will achieve satisfactory sales if it is therapeutically beneficial without deleterious effects, but it will not become widely used unless it is widely known (The Positive Role of Pharmaceutical Advertising, 1961). By curating advertising programs, and tailoring specific messages to the needs of physicians, pharmaceutical companies can improve their visibility and increase their reach.
Since certified physicians dispense drugs, ads have traditionally been targeted toward them, but as advertising in general shifts towards strategies that utilize individually-targeted ads, it is even more important that pharmaceutical companies are getting their message to the right people, the right way. Because there are special guidelines surrounding who pharmaceutical companies can target specifically, it can be extremely beneficial to seek out different, custom solutions for advertising needs, and these can be tremendously effective, especially surrounding an event or conference.
As physicians are increasingly relying on technology to assist with their jobs, they are also seeking information out on their devices. According to a 2012 Google-Manhattan Research study, approximately 90% of physicians under 45 owned a smartphone, a number that very likely has grown since then. Furthermore, the importance of this data point is multiplied by the knowledge that physicians are actively seeking out new information on their devices. Approximately 82% of physicians under 45 utilize search engines daily, while spending about 15 hours per week online altogether. And these figures are remarkably similar to physicians over 55, of whom 80% own a smartphone and spend 9 hours a week online on average (Google/Manhattan Research, 2012).
Though a significant portion of this device usage is related to disease identification and condition lookups, a not insignificant portion is for learning. Health Care Providers (HCPs) are using mobile devices for education purposes, including CME activities, in order to stay informed about the most current evidence-based information and medical practices. Additionally, mobile devices have been shown to be important tools for teaching. For instance, mobile apps such as 'Touch Surgery' are available to simulate surgery training, while other apps, like those created by Northwestern University's School of Medicine, are used to assess skill levels of residents (Ventola, 2014).
This consistent online presence, coupled with a desire to seek out new, relevant information, makes pharmaceutical advertising an extremely lucrative venture, but only to those that can capitalize on it. In order to do this, it is imperative that marketers consider message tailoring. "Fitting a message to meet personal needs and characteristics, rather than targeting group criteria, may be more effective for influencing health behaviors." (Schmid, Rivers, Latimer, & Salovey, 2008). And this can be especially effective when a conference or an event is scheduled, as "individuals will be most persuaded by personally relevant messages because they are more likely to pay attention and process more thoroughly the information these messages contain".
Custom advertising solutions aren't the only important choice to make however, as having a comprehensive advertising strategy is also paramount. Since different individuals receive information different ways, it is important to display ads and information in different ways: this can include standard banner advertisements, custom emails, video presentations, and even games or surveys to increase engagement (Schmid, Rivers, Latimer, & Salovey, 2008). Whatever marketing mix chosen, it is also necessary to ensure functionality, as 64% of physicians say they are likely to abandon a website if it's not optimized for a smartphone (Greene, 2012).
Outcomes will vary depending on the campaign, but using the right blend of advertising can have exciting results for a pharmaceutical company. A Google case study found that the company Sk:n, after using an agency to make use of enhanced mobile campaigns, saw performance improve immediately. By redesigning and launching a mobile-specific website, calls grew 42% in the first month and the overall CTR increased by 6%. The agency's media director Sri Sharma observed that 'the enhanced campaigns platform helped streamline campaign management while offering new optimization features'. This, in turn, allowed Sk:n to better reach and engage with clients, and therefore better meet objectives of driving more incoming business inquiries, particularly through mobile (Google Think Insights, 2014).
By identifying the best ways to connect with an audience, and providing optimized content to be served to them through custom solutions, a pharmaceutical brand can increase its reach while informing and educating consumers and healthcare providers. When this content is tethered to a real-world event, such as a conference, the result is magnified. By partnering with trusted medical publishers and employing sophisticated data-driven techniques, pharmaceutical companies have tremendously effective tools to improve health outcomes and stay engaged with consumers; a win-win for pharmaceutical companies and marketers alike.
If your brand is looking for custom content, please see what eHealthcare Solutions can achieve for you today.
Works Cited
Google Think Insights. (2014, January). Case Study: Sk:n Clinics. Retrieved from https://think.storage.googleapis.com/intl/ALL_uk/docs/skn-enhanced-campaigns_case-studies.pdf
Google/Manhattan Research. (2012). Screen to Script: The Doctor's Digital Path to Treatment. Google Inc.
Greene, T. (2012, September 14). The Doctor's Digital Path to Treatment: A Study by Google and Manhattan Research. Retrieved from Intouch Solutions Pharma Marketing: https://www.intouchsol.com/blog/the-doctor-digital-path-to-treatment-a-study-by-google-and-manhattan-research
Pattikawa, L. (2007). Innovation in the Pharmaceutical Industry: Evidence from Drug Introductions in the U.S. Rotterdam: Erasmus University
Rotterda,. Schmid, K. L., Rivers, S. E., Latimer, A. E., & Salovey, P. (2008). Targeting or Tailoring? Maximizing Resources to Create Effective Health Communications. Marketing health services., 28(1), 32-37.
The Positive Role of Pharmaceutical Advertising. (1961). Canadian Medical Association Journal, 84(12), 668.
Ventola, C. L. (2014). Mobile Devices and Apps for Health Care Professionals: Uses and Benefits. Pharmacy and Therapeutics, 39(5), 356-364.