Self-Serve Analytics – Making business more collaborative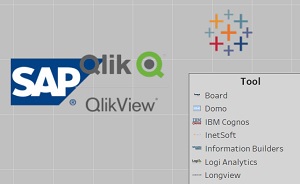 According to Ralph Tkatchuk of Dataconomy, "Data-driven businesses are five times more likely to make faster decisions than their market peers, and twice as likely to land in the top quartile of financial performance within their industries" (Tkatchuk, 2017). Focusing on market data, companies can make quick decisions and use future forecasting.
2017 has already brought us numerous tools that can rapidly calculate formulas and help drive insights that once took hours to develop. Self-service analytics is the way to become both data focused and collaborative with other departments in your business. "More than half of business users and analysts are projected to have access to self-service Business Intelligence tools this year. According to Gartner's Research Vice President Rita Sallam, BI is rapidly transitioning from 'IT-led, system-of-record reporting to pervasive, business-led, self-service analytics'" (Tkatchuk, 2017). Creating a collective front for all departments and interconnecting every unit of the business makes the entire deduction and analysis process more efficient for making difficult decisions.
Data-driven businesses are doing this by using tools like Tableau and other collaborative BI solutions that make analysis simple by the click or drag of a mouse. Data tools are becoming more affordable, integration is easier between different sources, time-consuming analytics becomes simple, cloud based data makes data accessible for everyone in the company, visualization is clean and crisp, collaboration becomes simple with cloud. (Tkatchuk, 2017)
Originally, IT was the center for databases and data in general. The top down approach made the IT team the top of the food chain when it came to data access. This approach is difficult to manage and interpret data, making it complicated to change information, dig deeper into the data, or even format the data in the way that a BI tool can. (Parenteau, 2017)
By using a business intelligence tool, and in turn, becoming more data-centric, your company can can "…[improve] collaboration to deepen existing customer relationships and build new ones…" (Van Loon, 2017). Providing reporting to customers and internal clients can drive insights that can improve your business to business experience. Per Ronald Van Loon (2017) of Dataconomy, big data can help with the following topics:
– You can use customer insights to cross-sell
– Offer a more personalized experience with the data and reporting
– Optimize orders and the re-ordering process by having a consistent structure to be used across the board
– Management of content becomes simpler by giving access to different departments and devices across the business
– Sellers can choose customers that they know will become future customers by using past data and insights
(Van Loon, 2017)
To create a more self-serve analytics based team, choosing a tool that makes difficult analysis easy is the key to success. A tool like Tableau can make insights easy to derive as well as beautiful and simple reporting that can be understood from analysts all the way to a salesperson's perspective. Creating a collaborative and data-driven environment will ensure your success in 2017.
 
Works Cited
Parenteau, J. (2017). Redefining the Role of IT in a Modern BI World. Tableau White Papers. Tableau Software.
Salazar, J. (2017, February 20). The 20 Most Popular Business Intelligence Tools. Retrieved March 2017, from Dataconomy: https://dataconomy.com/2017/02/top-20-bi-tools/
Tkatchuk, R. (2017, February 6). 6 Ways Business Intelligence is going to Change in 2017. Dataconomy. Retrieved from https://dataconomy.com/2017/02/6-ways-business-intelligence-changes/
Van Loon, R. (2017, March 17). How Big Data can Transform B2B Sales and Marketing. Dataconomy. Retrieved from https://dataconomy.com/2017/03/how-big-data-can-transform-b2b-sales-and-marketing/