Choosing a Viewability Tool for 2017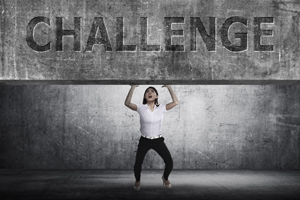 RFP season is here, putting the display advertising world in the mindset for 2017. With the new year coming up, advertisers, agencies and publishers may be considering new tools that can be used to analyze the success of a campaign. Viewability, a measurement of how many ad impressions are actually seen by a human, has rapidly moved up the metric ranks.
Viewability (A.K.A. in-view rate) is a significant metric, but should not be considered the only metric that defines a good campaign. While viewability is still an important variable (if an ad is not seen then no one can engage with it), engagement metrics should also be added to the primary KPIs of ad performance.
Engagement metrics on an ad can include CTR (click-through-rate), in-view time, interaction rate, hover rate, on-screen rate, as well as others. Engagement metrics should not be confused with conversion metrics. Conversion metrics will measure what happens after the user engages with the ad.
A good viewability tool not only measures the in-view rate, but also measure how users are engaging with the ad (before they take the next step, click through and possibly convert). To get the most out of ads, advertisers and planning agencies should consider a tool that will help them make decisions about placement and engagement with their ads. The beauty of digital advertising, is that placements can be changed on the fly. With a good viewability tool, advertisers are assured that they can measure the effectiveness of their ads, and make changes when campaigns are not reaching expectations.
No viewability tool is perfect. Tools can have difficulty measuring impressions due to a variety of reasons: old browsers, serving ads through multiple servers, IVT (invalid traffic), user computer issues like connection problems, etc. Useful tools are the ones that measure at least 90% of all of the impressions that are being delivered.
Transparency is another aspect of choosing a viewability tool. "The vendors that are worthy are the ones that tell their clients what they do and how they do it…publishers shouldn't work with the ones that are not transparent to their own customers, but publishers also need to know what to ask" (Schiff, 2016). The more that the vendor can tell the user about how they are collecting their information, especially concerning IVT, the easier it is to figure out how to improve the in-view rate.
Tools that are on the MRC accredited list should be the only ones that are considered in a media plan. The accredited Viewable Display Ad Impression Tools are as follows: Adloox, AdYapper, AppNexus, comScore vCE-Validation, DoubleVerify, Integral Ad Science, Markit On Demand, Meetrics, Moat, Pixalate, RealVu, Sizmek, WebSpectator. Take a look at the list of MRC accredited companies for viewability and other metrics.
eHealthcare Solutions conducted a case study on the viewability tools that it has been able to work with this year. These tools include IAS, Moat, DFA Active View, and ComScore.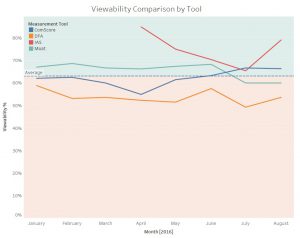 (Click to enlarge.)
After analysis, EHS concluded that Moat was the best vendor for the following reasons. It should also be noted, that none of the other viewability tools do the following; these features are unique to Moat:
Moat not only measures in-view rate, it also measures all of the above mentioned engagement metrics, as well as many others.
In the chart above, Moat has a consistent pattern that helps campaign managers understand when there is an issue with viewability. For instance, in the summer months, the trend dips in correlation to an actual issue that EHS had with some of its campaigns. The other tools, have ebbs and flows that analysis is unable to uncover with the information available in those tools.
Moat allows for easy cross dimensional analysis. Moat offers a selection of 10 customizable dimensions including Creative, Site, Placement, Size, Browser, and Position. It also has a wide selection of metrics including categories of impressions, time, placement around the fold, invalid traffic and human traffic, non-US traffic, outdated browser, late night… etc. etc. etc. Other viewability tools do not offer these extensive selections.
Moat's comprehensive metric guide allows the user to look up definitions on the fly.
The regularly updated benchmark tool that Moat offers is also invaluable to help determine if campaigns are performing to the average.
Their new products like the Moat Chrome plug-in and Moat Live Dashboard help with client facing reporting and client training on difficult to explain metrics.
Moat provides excellent customer service and training sessions for both publishers and advertisers.
Furthermore, Moat is the tool that is most transparent in the area of IVT, which allows for more in-depth analysis and discovery of sources of IVT.
Moat is one of two viewability tools that are accredited by the MRC to measure viewable ad impressions in mobile web environments and for mobile in-app impressions.
EHS uses customizable ad tags, an ad exchange, and due to our size and diversity, we've faced just about every challenge there is in the area of ad serving, and still Moat measures 92% of impressions.
Finally, Moat is very easy to use and works quickly with no wait times for reports. Multiple reports may be run in a matter of minutes at the user's discretion.
While in-view rate is a significant metric, other metrics are helpful to determine the success of a campaign. With an all-encompassing tool like Moat, it is easier to develop a measurement plan that surrounds the total effectiveness of an ad campaign. Advertisers should consider choosing a tool similar to Moat — transparent, easy-to-use, and continually updated to ensure efficient campaign measurement that allows for making changes on-the-fly.
1 Schiff, Allison, The IAB's Nuts-And-Bolts Advice On Handling Viewability. Web. adexchanger.com. March 2016.