What is 100% Viewability?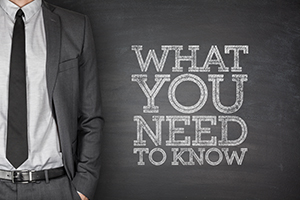 The definition of viewability is when 50% of the pixels of an ad is viewable by the user for at least one second or more (IAB, 2016). Viewable ads are believed to give the advertiser more bang for their buck when paying for premium ad space, but 100% viewabiliy can have different definitions.
From an analytics perspective, the definition of 100% viewability is that every single ad on the page is viewable by a human being at all times. A good example of what an analytics team believes to be 100% viewability is seen in FIGURE 1, below.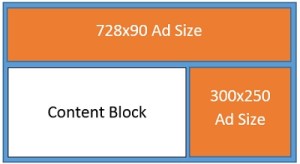 FIGURE 1
The above page has 2 ads that are 100% in view. There are no bottom leaderboards (728×90) or any other ad sizes on the page. In a perfect world, both of these ad sizes are sticky and they follow the user as they scroll down the content. This means that these ads are always 100% in view even when a person is navigating the page.
100% viewability according to the definition above is not achievable. There are many reasons why this is so, even on a page that is perfect and set up as in FIGURE 1. For instance, an ad may not load correctly for technical reasons including older browsers, ad blocking, internet connection, etc.
The second definition of 100% viewability is from a financial perspective. It is defined when advertisers are only willing to pay for advertising that is 100% in-view. This means that some ads may not be in-view and the advertiser will not pay for them.
See FIGURE 2 below, as an example of a 300×250 ad that will not be paid for by the client. Although the ad is in-view, less than 50% of the ad is displaying. If the visitor doesn't scroll down the page, they will never see more than a small percentage of the ad.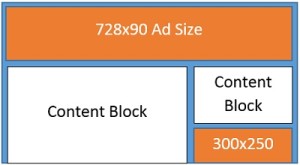 FIGURE 2
The practice of putting the term "100% viewability" into an IO is becoming more prevalent within the pharmaceutical industry. However, 100% viewability by the first definition is not achievable. Therefore, the vague statement of asking for 100% viewability in an IO can be confusing to the publisher.
The way to avoid this confusion is having a clearly defined statement of viewability such as, "100% viewability is not achievable, but the advertiser will only pay for the impressions that are 100% in-view." Viewability should be discussed openly between publishers and agencies in order for all parties to agree on what is meant by the term 100% viewability.
Work Cited
IAB. (2016). Primer for Publishers on Improving Ad Viewability. 16.
eHealthcare Solutions Viewability Statement:
eHS is on the cutting edge of viewability topics and measurement tools in order to provide education to both publishers and agencies/advertisers. At eHS we work persistently with every exclusive publisher in our network to help improve their viewability. We monitor each publisher through our ad tags using accredited MRC vendors in order to provide recommendations for improvement on non-human traffic, in-view percent, and other viewability metrics. We also partner closely with agencies and advertisers to agree on viewability measurement tools and billing procedures. Transparency in our relationships is the key to staying ahead of the viewability curve.