Now Available – Results: The Future of Pharmaceutical and Healthcare Marketing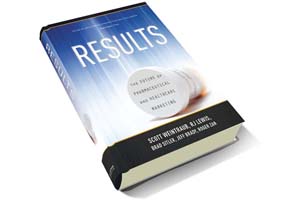 A perfect storm of healthcare:
A shift is underway in the pharmaceutical industry, from that of a one-size-fits-all to a targeted approach. Driven by increasing government regulation, changing reimbursement models, dropping prices due to generics, and growing expense to develop branded drugs – success in pharmaceuticals requires a better approach.
The new book, Results: The Future of Pharmaceutical & Healthcare Marketing, offers key insights into what the pharmaceutical industry must understand to obtain expertise and remain relevant and profitable in a world where marketing and strategic tactics must evolve as quickly as our changing systems of care.
Chapter topics & authors:
• Regional Marketing – Scott Weintraub, Co-founder and CMO of Healthcare Regional Marketing
• Digital Marketing – R.J. Lewis, Founder and CEO of eHealthcare Solutions
• Promise of Big Data – Brad Sitler, Principal Healthcare Strategist, SAS
• Evolving Systems of Care – Joanne McHugh and Roger Zan, Managing Directors, and Stephen Morales, Director, Navigant
Download the Digital Marketing chapter free at Results-Book.com
"Pharma companies today need to add value beyond the pill by adapting, serving, and collaborating with stakeholders in the healthcare universe," said R.J. Lewis, Founder & CEO of eHealthcare Solutions. "They need to show that they can deliver results better than anyone else so that the industry will not just remain relevant, but lead, in the new era of outcomes based healthcare."