New IMS Report Reveals Global Cancer Drug Spending to Exceed $150 Billion by 2020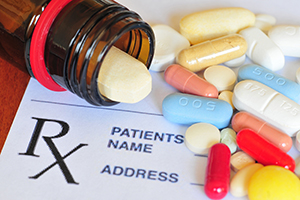 Cancer is one of the most prevalent diseases worldwide and its high fatality rates continue to be disconcerting for all friends and families impacted by the disease. With every new development in the fight against cancer, the financial backing for new therapies and research increases, in pursuit of ultimately curing the disease.
According to IMS Health Holdings, worldwide spending on cancer medicines will exceed $150 billion by 2020, an annual growth rate of up to 10.5%.3 IMS, a leading information and technology services company that provides prescription drug use data for the pharmaceutical industry, published the report just prior to the American Society of Clinical Oncology meeting in Chicago (the most important annual scientific cancer meeting).
The article, "Global Cancer Drug Spending to Exceed $150 Billion by 2020: IMS report" written by Bill Berkrot, indicates that the increase in spending is attributed to the emergence of expensive new therapies that help the immune system to attack tumors.1 Reuters reported that "this increase in spending represents an annual global growth rate for oncology drug spending of 7.5% to 10.5% through 2020, up from last year's IMS forecast of 6% to 8% growth through 2018".1
The projected "higher costs will be driven by the wider usage of new products, especially immunotherapies, in developed markets such as the U.S. and the five major European countries," the report said.3
Growth in Oncology Costs 2010-2020
Credit: IMS Health3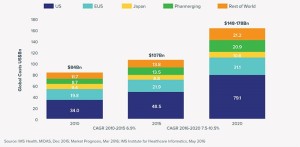 Murray Aitken, executive director of the IMS Institute for Healthcare Informatics, which produced the report, said in a statement: "The new science redefining cancer as a large number of narrowly defined diseases and yielding therapeutic options for an expanding number of patients is rapidly transforming the oncology treatment landscape".1
According to IMS, the past decade has witnessed an upwards 60% increase of over 586 molecules in clinical development.3 However, unequal access to new treatment is a persisting issue, as only six countries have had more than half of the new drugs available to patients. The amplified expansion in the pipeline of cancer drugs has driven this increased growth in global oncology costs and now welcomes pharma companies to seize new opportunities that could change both the face of oncology and the healthcare industry forever.
Key Insights from IMS' Global Oncology Trend Report:
"New therapies have driven up spending and widened treatment options for patients. New targeted treatments, such as the new immuno-oncology drugs from Bristol-Myers Squibb, Merck, and Roche, have shown dramatic promise in improving clinical outcomes."2
"Nearly 90% of cancer drugs currently in clinical development are targeted therapies, up from 78% in 2005. R&D activity is particularly high for non-small cell lung cancer and melanoma."2
"The total cost of cancer therapeutics and medicines used in supportive care – measured at the ex-manufacturer price level before the application of rebates or other price concessions – reached $107 billion in 2015, representing an increase in constant dollars of 11.5% over the prior year."3
"A diverse set of over 500 companies are actively engaged in late phase oncology R&D, including most leading global companies and many newcomers."3
1. Berkrot, Bill. "Global cancer drug spending to exceed $150 billion by 2020: IMS report." Reuters. 2 June 2016. Web. Date accessed: 3 June 2016.
2. Pagliarulo, Ned. "Global cancer drug spending rises, set to surpass $150 billion by 2020." BioPharamaDIVE. 2 June 2012. Web. Date accessed: 3 June 2016.
3. "Global Oncology Trend Report a Review of 2015 and Outlook to 2020." IMS Institute. Web. Date accessed: 3 June 2016.