eHealthcare Solutions 90@90: New Opportunities for Revenue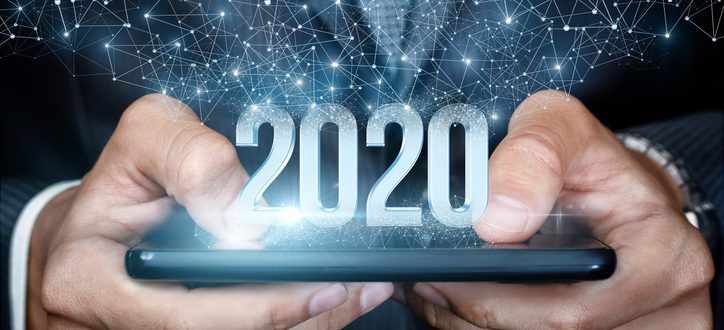 March 24, 2020, R.J. Lewis, Gail Jaeger, and Jessica Dalle all take a dive into new opportunities for revenue generation during eHealthcare Solutions 90@90. This presentation goes over everything from the current state of our world, later pay, high impact sponsorships, and our 2020 vision.
"It's going to get worse before it gets better." R.J. Lewis states. R.J. starts the presentation off by discussing how COVID-19 is affecting the current state of the world and predicts that it's going to get a lot worse before it gets better. He also predicts that this situation won't just last weeks, it may take many months for people to go back to their normal lives and their normal work schedules.
R.J. explains how it's a different world we're living in right now. Everyone is currently adjusting to their new lives, isolating themselves and working from home. With all of the isolation, eHealthcare Solutions is still operating remotely and we're still staying connected through online video conferencing including Zoom.
Even though working from home may feel very isolating at times, R.J. see's this situation in a brighter light. R.J. states that before he has a call with someone, he has to make sure his kids are on their best behavior. He can also see everyone else doing the same with their kids during the 7-10 calls he has throughout the day. "You are getting to know clients on a new level." R.J. expresses that this is the new norm for a lot of us and in one way, it's nice and humanizing.
Opportunities:
R.J. continues the presentation by expressing how he believes that this situation is creating many new interesting opportunities for digital advertising and advertising at large. In R.J.'s article "Pharmaceutical Marketers' Guide to Managing through the Coronavirus (COVID-19) Pandemic" R.J. explains how product managers are handling their day to day during this pandemic. This article puts people in the shoes of a product manager today, working in pharma or biotech. R.J. explains how their entire annual marketing plan just got completely shredded and everything is changing for them. "A product manager's number one utility for marketing and pushing their product is SalesForce, and SalesForce for pharma across the board has been effectively benched and so they are being asked to work from home, and the reality is that they are not prepared to work from home." Many tools that product manager's use throughout their day are no longer applicable anymore or have been put on hold.
So the question is, what's left to do after you take all of these tools away? Where are our new opportunities going to come from? The answer to that is advertising. Advertising is where we see many potential opportunities in the near future. This includes print, radio, television and digital. Digital being the biggest recipient of them all due to the easy access while working from home during this period of uncertainty. R.J. feels that these obstacles are just opportunities in disguise and this obstacle could potentially be a meaningful opportunity especially for digital.
Introducing Gail Jaeger:
Gail Jaeger started at eHealthcare Solutions in January 2020 as VP, Association/Society Partnerships. Prior to EHS, Gail was with Everyday Health Professional/Medpage Today for the last 9 years, putting together different types of programs with associations and societies. Gail states that she was in charge of making sure that the product that was being developed was beneficial for both the partner and the advertisers. Gail will be implementing the same challenges towards her new journey at eHealthcare Solutions and looks forward to working with new partners and reconnecting with others.
Introducing Jessica Dalle and LaterPay:
Jessica Dalle works with LaterPay and has been with them for 2 years. LaterPay originated in a German company that came to the U.S. years ago and has been around for over 8 years now. Jessica manages their relationships with publishers and their business development.
LaterPay is a flexible platform that makes it easy for users and publishers to monetize their digital content. After having many conversations with publishers throughout the years, Jessica noticed that there seems to be a challenge with subscriptions and print advertising. She states that there are still two places where there are many opportunities to grow revenue, including digital advertising and digital subscriptions. There are still many ways that LaterPay can help publishers increase revenue in those two domains.
LaterPay's solutions come to help their users in different ways. The first way is by enabling publishers to sell subscriptions in a traditional way. What really sets LaterPay apart from other companies and makes them unique, is by enabling users to purchase not only subscriptions, but also single articles, and time passes. What also makes LaterPay unique, is by allowing users to engage with content and not have to pay for the content straight away. Other solutions that LaterPay offers include contributions and donations, an ad-free experience, full featured solution for video, B.I./data analytics, and pay later – patented soft paywall.
How LaterPay works:
Later pay engages all users for more revenue. Jessica explains that users can buy the content and access it immediately without any upfront registration or payment needed. This is how LaterPay converts traffic into transactions. For example, users can purchase and view different articles for around $0.50 and can keep purchasing different types of content until their tab hits $5. After their tab hits the $5 mark, the user will then have to register and make an account in order to continue making frictionless purchases. LaterPay's statistics show that 86% of visitors who agree to pay for their content later, actually pay for it later. Jessica states that their statistics also show that visitors are 2.5x more likely to pay for content when given the option to pay for it later. Jessica believes that the reason why LaterPay is successful is because they give their users a choice which gives them control and makes their experience more convenient.
High Impact Sponsorship Programs:
After Jessica discusses LaterPay, Gail dives right into our High impact sponsorship programs. These programs are different types of programs depending on what the initiative is for the advertiser or our partner. Gail explains that these programs can be focused towards the HCP audience, the consumer audience, and sometimes even a combination of both HCP and consumer. These programs can include conference coverage, disease awareness, trivia and quiz games, real patient insights, HCP insights, resource centers, or content promotions.
For example, in November and December of 2019, we ran an AwarenessMonthly program for Entyvio that was in collaboration with HealingWell. This was a disease awareness program, focusing on Crohn's disease and ulcerative colitis. Gail states that HealingWell is one of the largest resource platforms for IBD, so this website became a natural fit for us to collaborate with them and promote this AwarenessMonthly program. So overall, this was a very successful program for the advertiser and HealingWell.
One other program that we ran for 12 weeks, was an AwarenessMonthly program that included a trivia game. For this program, we worked in collaboration with the National Psoriasis Foundation where we produced a trivia game called "Is Your Skin in the Game?" This trivia game included 120 questions and the audience had 2 minutes to answer as many questions as they could. We also promoted this program through our social media platforms and our blog. Since we got a ton of results from our audience for this program, it was a very successful program for us and the advertiser.
Another program that we ran focused on a patient video product called "Rise Above Psoriasis." This program also worked with the National Psoriasis Foundation and included a user generated video. This included high quality user generated patient testimonials, where people would shoot a video on their cell phone while using our unique software technology. This program gives a more personal feel by allowing people to talk about their experiences and explain how psoriasis has impacted them and their life. This program takes a little longer to create due to the moving pieces but it ran for 6 months and it was another successful program that we were able to promote for the National Psoriasis Foundation.
Overall, these are just a few examples on how we can work together in terms of creating these types of programs and reach the HCP or consumer audience.
Connections – A New Opportunity:
Gail continues to talk about our new product that we are currently working on and will be launching this year. This new product called 'Connections' strives to connect societies and associations together to showcase and broadcast their content, not only for those within their field, but to others as well. Gail states that the reason why we are pulling these societies together is for the opportunity to allow these different physician audience groups and other healthcare professionals to start impacting the patient early. Gail expresses that it is also important to bring these groups together so that they can follow that patient's journey.
This product is a destination site that provides disease-state and condition-specific content to certain targeted audience populations. This site can be for either one association or society, or it can be multi-partner. It can also be created for either the HCP audience, the patient audience, or both so that they can interact and talk to each other through this journey.
The content that will be provided by our partners and others for this destination site includes articles, videos, clinical guidelines, podcasts, and patient information. This site provides these kinds of refreshing content so that the users come back more frequently due to the content being applicable to them.
The benefits of our High Impact Sponsorship Programs:
These programs allow our partner's content to reach these different specialties, professions and/or patients. They also promote alignment with other associations, societies, foundations, advocacy groups and/or other organizations. Not only do they help promote our partners, but it also helps our sales force go out and sell these types of programs as an additional revenue stream for our partners.
2020 vision: Challenges & Opportunities
R.J. explains the challenges and opportunities for our partners. One challenge on the HCP side in particular, is that advertisers primarily want authenticated prescribers and physician level data back with their campaigns today. This ties back to the benefits of LaterPay and how it can be used in a couple of different ways. The first benefit that R.J. states, as it pertains to authenticated prescribers of physician level data is, imagine if your HCP website had a banner across the front that said "Our site is completely free for U.S. healthcare professionals. Simply register and tell us who you are and there is no charge to use our website." R.J. states that this is like a carrot behind a curtain that will get and encourage physicians to register, which is one of the hardest things to get physicians to do on a website.
The second benefit for Later Pay, is that 30% to 40% of our partner's traffic consists of international users, and our partners are earning nearly zero revenue from their international users. So LaterPay can be triggered based on geography and track the paywall for the international users.
The third great use for LaterPay has to do with the users who come to your website with ad blockers on. From talking to many publishers, R.J. noticed how many of them aren't aware of how many users come to their website with ad blockers on. From R.J.'s experience looking at 400+ sites in the HCP and healthcare medical space, 7% to 15% of their traffic has ad blockers on. Users with ad blockers on are like freeloaders, there's no way for you to earn revenue on them. So the benefit with LaterPay is that it can detect when a user has an ad blocker on, and then those users will get a pop up asking them to turn off ad blockers or agree to pay for some of the content. Even though many of the users won't pay for the content, 99% of the time the users will end up whitelisting you and then you will get a lift in your inventory.
R.J. states that these are the three primary LaterPay uses that we encourage to use. This is a great starting point for LaterPay and once you figure it out it will become addicting and you'll want to figure out how to monitor your traffic even more.
One other challenge that we face is display advertising, including viewability, non-human traffic, and decline in run-on-site. We are seeing great success in the native advertising category, including TrendMD and TapNative. There is a lot more stability in native advertising and it is growing rapidly.
Difficulty Lies Opportunity
Towards the end of the presentation, R.J. states that we are going through a difficult time in our lives, particularly with the pandemic of COVID-19. R.J. explains that within difficulty lies opportunity, and that we still sense many opportunities for not only digital advertising, but for all advertising. We believe that the future is digital, especially with what we're going through right now. R.J. states that we are going to continue to do what we do best and we are here for you.
Next 90@90
Keep a look out for our next eHealthcare Solutions 90@90 that will take place on June 24th, 2020 at 2:00pm-3:30pm(EST). For this session, we will be discussing the state of digital in the age of Coronavirus. Be sure to save the date and we will see you then!