90@90: Preparing for a Cookie-less 2022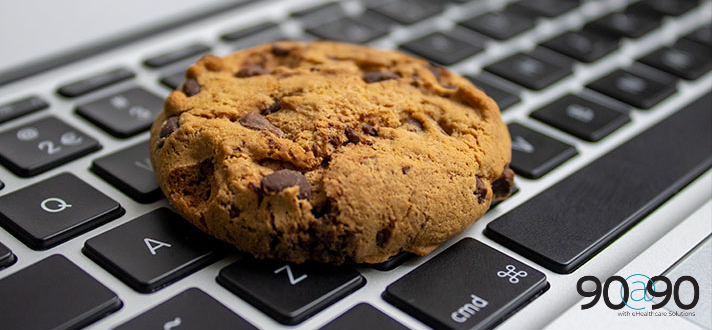 January 28, 2021 – eHealthcare Solutions hosted their 90@90 webinar, Preparing For a Cookie-less 2022.
At the beginning of 2020, Google announced that they will be phasing out third-party cookies in 2022. Since then, publishers and marketers have been testing new strategies in preparation for Google's replacement.
Host, R.J. Lewis, Founder and CEO of eHealthcare Solutions, and guest speakers, Moira McKenna, Vice President, Business Development and Customer Success at Throtle, Taylor Ball, Lead Solutions Engineer, Data and Identity at Salesforce, and Tara Blackman, Senior Account Executive, Enterprise Accounts at LiveRamp discussed their opinions and insights on what steps healthcare publishers can take to prepare for Google's third-party replacement. As a disclaimer, each guest speaker shared their own opinions and knowledge as individuals and do not speak upon the opinions of their companies. Here are key takeaways from the 90@90:
Publishers Face New Challenges and Opportunities
Without third-party cookies in 2022, advertisers and publishers will be faced with some difficult new challenges. Google's third-party cookies drive a lot of ad targeting, including programmatic and attribution.
It is important that companies are constantly adapting to new technology so that they stay engaged with their consumers and understand the best strategies to reach them. According to our guest speakers, some challenges that publishers and marketers are currently facing include competition between other large companies in the industry, maintaining identity graphs, and staying engaged and connected with their audiences.
There are also a lot of changes that will be happening on the consumer side. Many consumers are more aware of how their data is being used online and with third-party cookies ending, data will have to be collected in a different way. Instead of tracking users through cookies, data will soon have to be collected in other ways such as paywalls, subscription walls, and other requests from users in exchange for publishers' valuable content.
"I do think over time, consumers will hopefully become more open to providing something to a publisher in order to receive the value that's on the other side of it, but it will take time. More people right now just look to find the content elsewhere or figure out how to unlock the content through some sort of blocker on their browser." – Tara Blackman, LiveRamp
Publishers' Expectations and Concerns
With third-party cookies ending, the momentum of programmatic will definitely hit a big speed bump. Testing the right solutions for its replacement will be challenging for publishers throughout the next year, but it is believed that this may turn out to be a positive change in the long run.
As Tara mentioned before, publishers are currently testing new solutions such as subscription models that are either already built into their site or will be in the near future. These subscription models don't always mean that users will have to pay for content, they can also be subscription walls where users just have to give a piece of information on themselves in order to access the content.
For sites that already have subscription walls set up, those publishers have noticed a higher bounce rate on their site. This means that the subscription model can be a turnoff for some users. On the other hand, when users do engage with the subscription wall and enter their information, this can lead to many opportunities for publishers.
By collecting data through subscription walls, better opportunities can come for publishers through their marketing efforts and email campaigns. This will also allow publishers to grow their subscriber base and user base. On the consumer side, users will have to change their behaviors and mindsets and be more open and more engaged with this new mechanism.
Privacy Concerns
When it comes to users' privacy, Google wants to replace third-party cookies with a less invasive solution. Therefore, publishers have been coming up with less invasive approaches that will still allow them to efficiently track and measure their users. All data that is being collected from the user, has to be done in a consensual way.
Moira McKenna expressed that her company, Throtle, has thought long and hard about how they approach users' privacy. With Throtle being regulated by the CCPA, Moira stated that they have to assert that they collect users' data in a consensual way and that they can trace consent. "So yes, we take a novel approach, but it is a thoughtful, privacy-centric approach." Moira McKenna, Throtle
Tara also stated that LiveRamp does not allow users to be re-identified and that they take a privacy-centric approach when it comes to keeping their users anonymous when collecting data. "We always make sure consumer privacy is put first above any sort of business benefit." – Tara Blackman, LiveRamp