Haven't Invested In Video Advertising Yet? Now's The Time!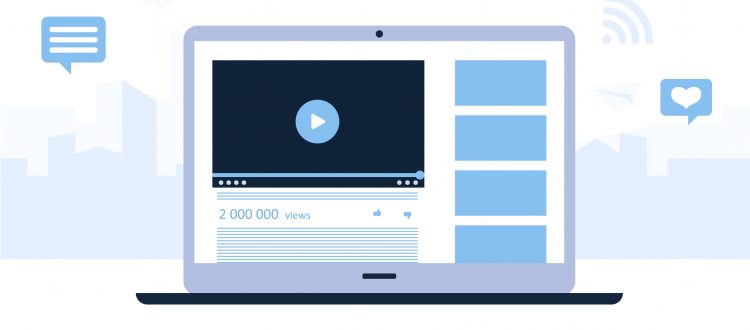 As expected throughout 2021, video advertising has significantly grown and spending has increased. Video ads allow advertisers to easily educate and engage their audiences in a cost-effective way. Therefore, it is crucial for many advertisers to invest in video advertising as soon as possible in order to maintain a wide-ranged marketing strategy.
How Video Advertising Quickly Evolved
At the beginning of COVID-19 in March of 2020, companies were trying to quickly adapt to digital tools and build their presence online. Since many companies were trying to become more digital as quickly as possible, this naturally catalyzed the evolution of video advertising.
"Around 40% of marketers say their plans around video marketing have been, or are being affected, by the coronavirus pandemic." – Wyzowl
The proof is in the numbers; There has been a 60% increase in the amount of video that people were watching globally back in 2020, according to studies from Nielsen. People, including advertisers and consumers, have also become more patient and tolerable of imperfections and glitches on websites and videos.
"Before 2020, brands that were just getting started with video content often struggled with perfectionism, not wanting to dive in for fear of audiences nitpicking the quality." – Lemonlight
Now is the perfect time to start investing in your video advertising strategy if you haven't already.
In-Stream Video Ads
Reaching over 80% of the US population, digital video allows advertisers to promote their brand(s) and services through in-stream video ads that can play either before (pre-roll), during (mid-roll), or after (post-roll) a video.
Using video ads to increase brand awareness is an effective way to reach your target audience who are already interested in content similar to your brand and on the devices that they are actively using.
"Viewers retain 95% of a message when they watch it in a video compared to 10% when reading it in text." – Kristen McCormick, WorldStream
When using in-stream video ads, it is important to also keep the ads short, simple, and insightful.
Start Expanding Your Marketing Strategies with Video Advertising
One video advertising platform that can help you start reaching your target audience is eHealth Videos. eHealth Videos was built specifically to service the pharmaceutical marketer and medical publishers. This platform delivers targeted, health endemic video advertising and content to both healthcare professionals and consumers across a vast endemic health network.
eHealth videos offers 15 and 30-second in-stream, pre-roll video advertising, shown before the video content, or mid-roll advertising resembling commercial breaks that are played in the middle of content.
Watch our short explainer video to learn more about eHealth Videos!