Google Algorithms Playing Mischief with Healthcare Sites?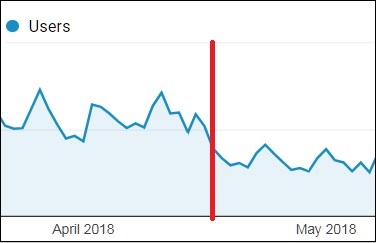 If you are a website publisher in the healthcare industry, you may have felt some serious bumps in traffic from Google's algorithm changes in the past 6 months. Although some may laud Google's interpretive dance around what searchers like best (and I'm sure they are using tons of analytics to back it up), unfortunately it can play havoc with the amount of traffic a publisher receives.
What did Google do in April 2018?
In mid April 2018, Google released a broad core algorithm update. Specifically for healthcare sites, it appears that they added a "Featured Snippet" box to the top of some of the search listings. In this box, Google chooses one publisher to highlight and includes a snippet of text from that website which they believe best answers the question or keyword being put into the search.
Under this top box, they may have also added another, "People also ask" box. This box contains questions that people might ask regarding the search query. Each question will then drop down into another highlighted site with text.
This means that if you ranked highly for specific keywords or questions, and were not among the "chosen" sites, you have now been pushed down to the bottom of the page or even to the next page of results.
On a few sites we've analyzed, this has had a particularly hard hit on keywords with drug names in them. For instance, SGLT2 Inhibitors and How does metformin work.
Here are is a sample of the "featured snippet" and "people also ask" boxes: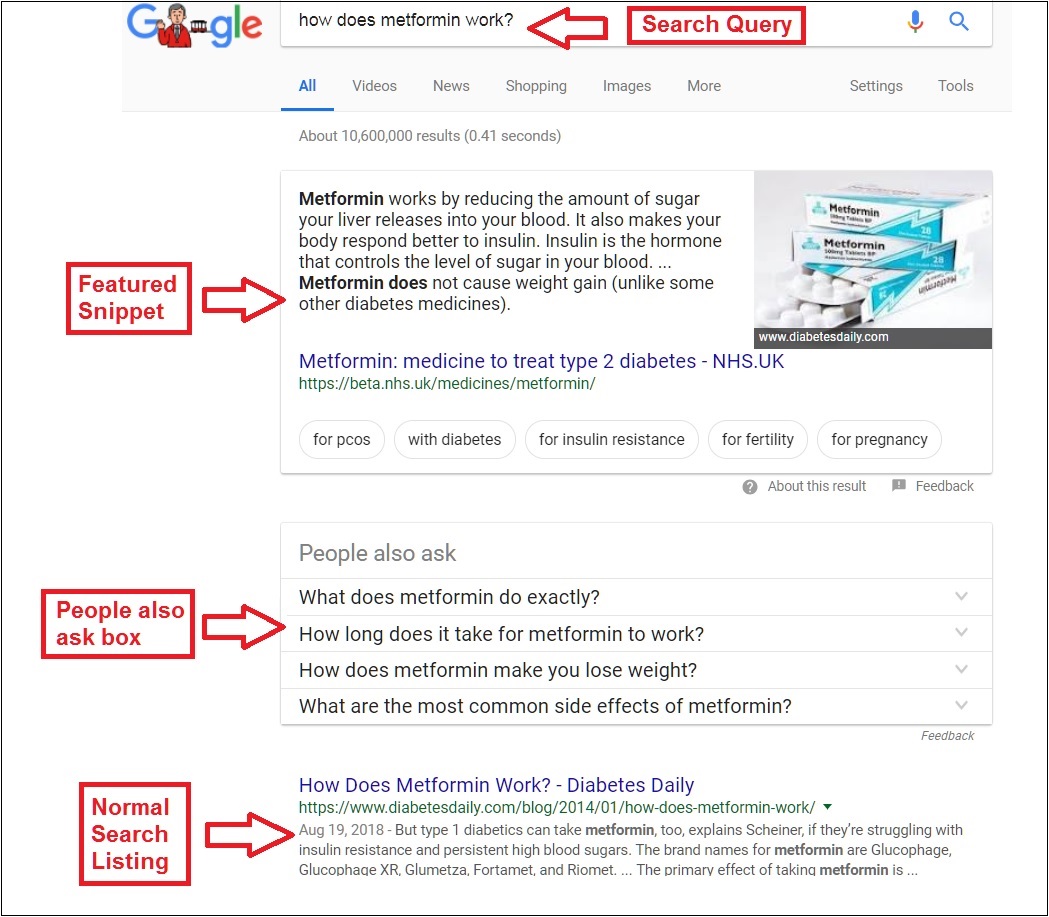 What did Google do in August 2018?
On August 1, 2018, Google updated the algorithm with what is being hailed as the "Google Medic Update." Here is a list of the specific types of sites that have been impacted. Again, sites containing drug information may have taken a hit.
The three main variables involved in this update may be site authority, user experience, and content issues (this is a great article, highly recommended reading!)
Site authority is garnered by authoritative back links to the website and by the experts that are doing the writing.

Backlinks are links into your content from highly authoritative and trustworthy sources, like .gov or medical organizations and society sites.
Medical content should be authored by a medical expert (a physician). Medical advice written by those that are not medical experts with proper accreditation may have been hit in this algo update.

User experience can be impacted by the number of ads.
Content issues specifically involving pages with little to no content on them or outdated pages (pages that haven't been updated recently).
Here is what Google says:
… medical advice should be written or produced by people or organizations with appropriate medical expertise or accreditation. … medical advice or information should be written or produced in a professional style and should be edited, reviewed, and updated on a regular basis.
What can be done about this?
It's going to depend on your page popularity, backlinks, your medical authority, pictures, headlines, and a host of other variables.
Here are some pointers:
For the Featured Snippets, you can try to answer the very specific question that you are trying to get a result for. You would place that text close to the top of your page and answer as concisely as possible, using the same writing styles and techniques as other featured snippets that you research around the question you are trying to answer.
Keep your content updated, and keep it updated by an accredited medical expert.
Keep ads to 2-3 per page. To account for viewability, they will need to be toward the top of the page, but position them so the page is not overwhelmed with ads. Here are some suggestions:

728×90 at the very top or under the navigation
160×600/300×250/300×600 combo on the right or the left of the text

Become friends with Google Search Console. Specifically, navigate here: Search Console: Search Traffic. This area is going to tell you all about how your site is fairing in Google organic search listings including exact queries people are using to find your site and how those keywords are going up and down in the listings. It will also tell you what other sites are linking into your site. It will also let you know if there are any critical problems that you may have to take care of from a technical standpoint (like indexing problems).