eHealthcare Solutions Introduces FocalPoint Advanced Targeting Suite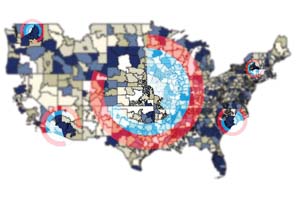 We are pleased to introduced the advanced geo-medical targeting suite of products called FocalPoint™.
In essence, FocalPoint™ gives the marketer the ability to reduce waste in the digital media buying by focusing their marketing spend on the most highly concentrated areas of the country where diagnosed patients live or where their prescriptions, or those of their competitor are being written.
Leveraging data from de-identified insurance claims data for patient diagnostic intelligence, or pharmacy data to determine Rx activity levels through providers such as IMS Health, eHealthcare Solutions analyzes this data in a HIPAA compliant way, to "focus" advertising expenditures to yield the most effective cost per patient reach.
FocalPoint Dx™ leverages insurance claims data to focus advertising on the most densely populated diagnosed patient populations for a given condition, indexed against general populations levels, and eliminating those areas where your patient population is low and concentrating the spend on these areas were the patient population is highest.   We help turn direct to consumer advertising into direct to patient advertising.
FocalPoint Rx™ leverages pharmacy Rx data on your brand and those of your competitive set, to concentrate messaging to the segments your brand strategy determines, whether you have a switching strategy or are looking to reinforce the areas where you are already dominating in market share.
FocalPoint Mx™ is an optional program expansion that leverages behavioral and third party data to identify look-a-like models to provide even more scale and expand the program reach.
The entire FocalPoint™ product suite is applicable to both Consumer or  HCP targeting efforts and can be executed effectively in both markets.  Depending on the categories and segmentation analysis, our goal is to reach 70%+ of the patient population while focusing on 30% of the country.  Why buy run-of-site, when you can pin point your messaging with better focus?